UV ink for PVC Plastic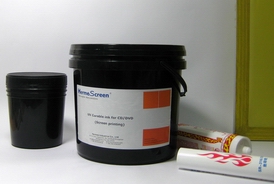 UV ink for PVC plastic (Screen printing purpose)
SUBSTRATES:
screen printing ink is a new and special UV cure Ink,which formulated for
golden and silvern paperboard,PV,PVC,PET and plastic subtrates PP and PE
TECHNICAL SPECIFICATION:
1. Appearance
:
Cream and liquid.
2. Gravity: 1.10-1.15g/25

℃
3. Viscidity: 2000
±
100 cps
(
30
℃
)
6. Cure speed:
≤
5 sec. 40m/min (80W/cm2 3pcs UV light)
APPLICATION INFORMATION:
Monofilament mesh, 100T-120T stencil
Using organic solvent resistant emulsions.
30 square meters per kilogram under 120T mesh.
Hardeness of squeegee is 70 shore.

CAUTION:
1. This ink is UV cure ink, keep away from the sunshine.
2. Clean water shall be washing for while the ink gets into the eyes or
3. Ink has no contaminated and irritant after UV dry.
PACKING:
Standard: 5kg/can, 4cans/carton