Water Slide Paper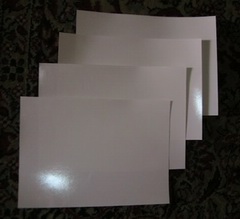 DESCRIPTION:
1. Create your very own water slide decals, using your screen printer with our water slide decal paper.
2. Turn your very own custom designs into decals, using this very easy to use water slide decal paper.
3. These decals may be applied onto almost any smooth, non-porous surface.
4. Glass, metal, ceramic ware (for decorative purposes), wood, furniture, candles, soap, model airplanes, model railroads, die-cast cars, fishing rods, picture frames, book covers, albums and appliances are just some examples of where water-slide decals may be applied.
AVAILABLE SIZE:
50cm*70cm
60cm*80cm
Please contact us for pricing and availability of any paper sizes.